Papa entstand durch Eindrücke während der über einen Zeitraum von 10 Monaten geführten
Gespräche mit nach Österreich Geflüchteten. Papa reflects impressions of encounters during a ten month period while working with refugees coming.

***
L'été – ein Film von Birte Brudermann mit Delphine Renard und Eric Blessin, 2014
L'été – a film by Birte Brudermann starring Delphine Renard and Eric Blessin, 2014

***
Innenansichten –
eine Filmzusammenarbeit mit Insassen der Justizanstalt Garsten, OÖ, 2008
Views from the inside –
a collaboration with inmates in the prison of Garsten, Upper Austria, 2008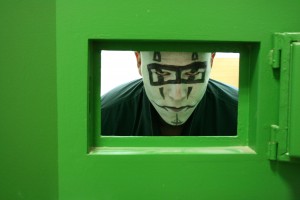 Wie schaut das Böse aus, wie schaut ein Verbrecher aus?
Die Antwort auf diese Frage ist ganz einfach: wie ein Mensch.
What does evil look like? What does a criminal person look like?
The answer is quite simple: like a human being?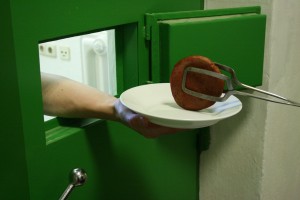 Was einem im Gefängnis auffällt, ist die Kontrastarmut, man hat immer wieder die Wiederkehr des Gleichen und wenn man nicht achtgibt, kann der Weg durch das Gefängnis wie eine Wüstenwanderung sein. Es besteht die Gefahr, dass man dehydriert.
Inside the prison, there are no contrasts. Every day is a repetition of the day before.
Being in prison is like walking through the dessert. You are in danger to dehydrate.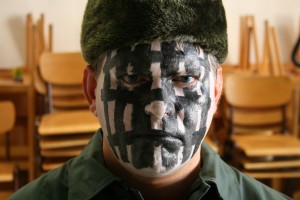 Der Verlust der Selbständigkeit ist für einen Menschen, der im Leben gestanden ist,
sehr schwer zu verarbeiten. Jeder hier ist gleich einsam.
It is difficult to accept loosing autnomy. In prison, anyone is solitary.
***
In "Ungläubig – ein Lesekino" begegnen Passagen aus dem Roman "Ungläubig" (Drava, 2014) von Sama Maani, Filmsequenzen und Soundspaces von Birte Brudermann:
Filmsequences and soundspaces by Birte Brudermann are based on texts of the novel "Ungläubig" (Drava, 2014) by author Sama Maani:
Foto oben: Filmstill aus "Innenansichten"